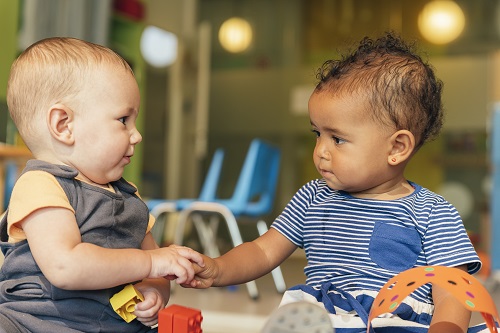 Nurseries and pre-schools work so hard to provide a strong caring environment for children as you know how vital you are to a child's development. Parents trust you with their children at this wonderful stage in their lives. You see them copying and learning from each other and you, and using new skills and language all the time.
It can be really tough for parents and children and staff when young children move from their home environment to nursery. Children often need help managing their big emotions as they don't have the rational thought or verbal dexterity to express themselves. Parents and staff want their children to thrive at this early age. This is why I can offer positive parenting workshops at nursery schools.
My workshops for parents of children at this age are ideally held within the environment of the nursery school community and can be tailored to fit with the nurseries ethos and values. They can either take the form of an informal coffee morning style talk to introduce parents and teachers to the skills I teach; or can be a 60-90 minute workshop style presentation that covers the key principles of my courses. These can cater for groups of between 10 and 100.
With the skills and strategies learned during the parent workshop, parents help children grow in self-esteem, develop good social skills and an interest in learning can blossom.
See below for my list of workshops. This is not a complete list, so if there is something different that you would like a workshop on please do let me know. I can also offer nursery staff two half day training seminars. Please get in touch if you have a specific workshop in mind.
Workshops
The Nursery Years
Bringing out the best in young children
Getting children to follow instructions
Moving away from the naughty step - positive discipline for the under 5s
Dealing with toddler tantrums
Helping children prepare for the transition to 'big' school
Bringing out the best in little boys
Who attends?
Any mum or dad or carer, with children in nursery including children with special needs
Nursery school staff
Workshops for nursery school teachers
I offer workshops in nurseries for nursery staff. Nursery teachers are caring and creative professionals, and I appreciate how much is required of them in stimulating a class of toddlers, caring for them emotionally whilst managing behaviour as the children try to grasp learning skills and interact with their peers and teachers. I know that nursery teachers sometimes feel under-equipped to manage toddlers' behaviour positively so I teach tried and tested techniques that bring out the best in toddlers while ensuring discipline is positive and effective, making for a happy nursery environment.
Who attends?
Teaching staff and assistants interested in developing further skills for the classroom